We Can Manage Your Commercial Property
While many people or companies decide to own commercial property as a source of income, it can be difficult to see the return of investment that you're expecting. Without proper management, your initial investment can become a major liability. At Blackwood Real Estate, our management team is dedicated to enabling your commercial property to succeed.
Blackwood Real Estate can help turn your commercial property from a liability into an asset by providing administration, property maintenance, and financial management as well as creating effective processes and procedures to manage tenants and clients. 
A reliable commercial real estate management company can be the reason your investment property succeeds. The team at Blackwood Real Estate has years of experience managing many different types of properties, from retail and warehouses to office buildings and associations. Keep reading to get an in-depth look at how we can serve you and your property.
We Provide Administration For Your Commercial Property
Administration systems are necessities for any property you own. Administration handles the ever-changing records that comes with commercial properties. This can include updating unit accounts, keeping track of owner histories, watching over delinquent accounts and violation trackings, and managing payables and receivables.
Unfortunately, the things that fall under administration can largely be overlooked by inexperienced management companies. Without proper administration, you could have missing records, no way of tracking accounts, and an unbalanced financial account.
It takes an experienced administration team to keep your commercial property in check. At Backwood Real Estate, we use state-of-the-art management system software to stay on top of the management of your commercial property. This software enables us to have superior control of all the accounts.
We Manage Property Maintenance For Your Commercial Property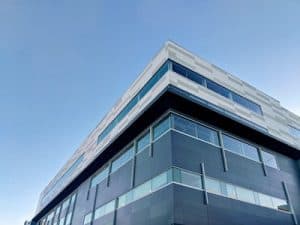 Property maintenance is vital to any commercial property. When maintenance isn't performed, properties can fail standards and city codes and regulations. It can also deter potential tenants from wanting to rent a space. In order to keep everyone on the property safe and happy, you need a management team that can manage the routine maintenance that your property needs.
Some ways that we manage property maintenance for your commercial property is by scheduling routine inspections and coordinating with professionals when repairs or replacements are needed. We also respond quickly to any insurance claims and ensure that all insurance coverage is adequate for the needs of the property.
We Balance the Finances For Your Commercial Property
In order to receive a maximum return of investment on your commercial property, you must hire a commercial property management company that can effectively manage the bank accounts for your property. This means paying the bills on time, collecting rent, and keeping an adequate record of the incoming and outgoing finances.
At Blackwood Real Estate, we also provide regular financial reports and a maintained financial record. We also manage online payment plans so that your tenants can pay more directly. We also employee a full-time financial manager who can answer any property-related financial questions.
We Create Effective Processes and Procedures For Your Commercial Property
One of the most important aspects of owning a commercial investmet property is being able to collect rent! Rent payments will be the main source of income for your property. That said, it's important to have effective processes and procedures in place that make paying rent or collecting rent efficient.
Processes and procedures can be applied to every area of managing a commercial property, not just when it comes to collecting rent. The more clear a procedure is will determine how smoothly everything runs on a day-to-day basis. Clear process and procedures will also benefit record-keeping to ensure everything is being accounted for.
Blackwood Real Estate has been able to develop efficient procedures that can make their property management team highly effective. When it comes to establishing procedures, we look at the needs of your property and which systems can be the most beneficial.
If you're looking for a reliable and trustworthy commercial real estate management team to manage your property, call Blackwood Real Estate today. We provide experienced, responsive, and effective management of your commercial property. You get what you pay for when you hire Blackwood Real Estate! Click here to visit more of our commercial property management website.