15 Oct

Finding a Great Property Management Company: Complete Guide
Tips for Finding a Great Property Management Company
A good property management company is vital to the success of your commercial or residential rental property. Property management companies play an integral part in finding new tenants, marketing and advertising the space, providing appropriate contracts and documents, maintaining the property, and handling administrative work and finances. Hiring a great property management company will enable your rental properties to work as passive income rather than an investment that demands your full attention.
Here are 10 tips for finding a great property management company to watch over your investment:
Find a Property Management Company That Specializes in the Type of Property You Own
Managing a commercial property can be different than managing a residential rental property. When it comes to finding a great property management company, you'll want to be sure to choose one that specializes in the type of property you have. While many property management companies work with both commercial and residential properties, there are some that cater to just one property type.
Blackwood Real Estate has years of experience managing both commercial properties and residential properties and associations. To learn more about our property management services, click here.
Find a Property Management Company That Can Provide References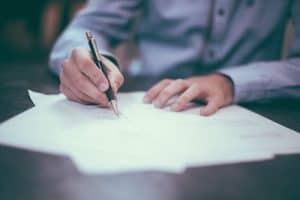 It's important to find a company that has clients who are willing to share their experience with you. By providing references, a property management company gives you the opportunity to ask their clients questions about how the company does business and if they're easy to work with or not. If a property management company isn't willing to provide references, that could mean that none of their past clients haven't been too happy with their work.
Find a Property Management Company That Has Advertising and Marketing Skills
Advertising and marketing skills are vital when it comes to working in the real estate industry. These skills can make sure the right potential tenants are seeing your space advertised. Good marketing skills will make your property seen so that you can quickly find tenants for the property.
Real estate and property management companies have many different property listing sites they can use to list your space. They should also have the contacts needed to list the property in real estate magazines and newspapers. If a company isn't willing to utilize these marketing strategies, then they're potentially setting up your property to be vacant for a longer period of time.
Find a Property Management Company That Has Good Reviews
In this day and age, one of the most effective ways to share your experience with a business is by leaving a review. Many potential customers will make their decisions based on the reviews they find online. If a product or a company has many negative reviews, you should take it as a hint that you may want to look for a different company.
Before you reach out and contact potential property management companies to work with, take the time to read their reviews. This can save you from much trouble in the future.
Find a Property Management Company by Asking Your Friends
Do you have a network of people who work in your industry? Do you have friends who own rental properties too? One of the best ways to find a great property management company is by asking your network and friends. These people may have been in the industry longer and can give you good advice on the property management companies to hire and not to hire.
By asking your friends if they know of a good property management company, you can trust that you're getting an honest answer. Your friend will want to save you from the trouble of dealing with a bad property management group.
Find a Property Management Company That Has Proper Licensing and Insurance
A good property management group will have gone to the trouble of getting the proper licensing, permits, and insurance that their company needs. If a business isn't willing to take the time to do this, how do you know whether or not you can trust them to see to the responsibilities of managing your property? Before you start looking for a property management company, take the time to research the licenses and permits required for your area.
For example, if your property is located in Virginia, you should research the Virginia laws that property management companies have to follow. Once you do this, you'll have the knowledge to find a trustworthy management company. You can learn about property management laws in Virginia here.
Find a Property Management Company by Visiting Their Properties
Do you want to see how your potential property management company handles its properties? Request a tour of a few of their properties. A walkthrough will let you see if maintenance is kept up and if the proper documents are posted in workspaces. Take a notepad with you so you can note anything you see that you like and dislike.
If you rather be more incognito, you can always visit commercial spaces like storefronts and retail spaces to see how the property is being managed. Property management groups may have a list on their website of the commercial spaces they manage, so you can start there when it comes to reviewing properties.
Find a Property Management Company by How They Handle Vacancies
All a vacant space does is lose you money. As your space sits empty, you're still having to pay the mortgage, utilities, and maintenance, all without incoming revenue from the property. A good property management company will recognize this and work to fill the vacancy as soon as possible.
Keep in mind, you don't want the vacancy filled by just anyone. A great property management company will find the perfect tenant by having procedures for vetting potential tenants. This should include credit checks, background checks, bank statement reviews, and even interviews.
Find a Property Management Company by Reviewing Lease Agreements and Governing Documents
Leasing contracts and governing documents should not only protect you as the property owner but should also protect the property from serious damage and other incidents. When you hire a property management group, they will be the ones providing the contracts and agreements.
Before you choose a company to manage your property, request to review their lease agreements and contracts. Have a lawyer look through the paperwork and inform you about how you're covered. By utilizing a lawyer, you can have a better understanding of the documents.
If there are other points you'd want to add to the documents, see if the property management company is willing to make those changes.
Find a Property Management Company by Interviewing Candidates
Lastly, one of the best ways to find a great property management company is by interviewing your candidates. This will give you time to see how each candidate communicates and whether or not they are someone you'll be able to work with. Have a list of questions prepared that you will ask each person you see; this will give you the opportunity to see if this company is compatible with your needs.
The property management company you choose can either make your property more profitable or more of a liability. For this reason, it's important to take the time to find a great property management company that will enable you to increase your return on investment.
Blackwood Real Estate is a property management group serving the Northern Virginia area by providing both residential and commercial property management. If you'd like to know more about us, click here.