We Can Manage Your Fredericksburg Property
Owning a rental property is a great way to build your investment portfolio; however, many people find it difficult to balance managing their investment property while also maintaining a work schedule and family life. One way you can ensure that your property and your tenants are taken care of is by hiring a Fredericksburg real estate management company.
Blackwood Real Estate is a Fredericksburg company that provides management services for real estate properties. Whether it's single-family homes, townhouses, or condominium associations, our team has years of experience managing real estate properties.
We provide administration, site management, and financial management for your rental property. We also assist associations in enforcing governing documents and managing contract services.
Hiring an experienced real estate management company will provide efficiency when it comes to caring for your property and seeing to tenant needs. At Blackwood Real Estate, we are skilled in managing not only single-family homes but also residential associations. To learn more about what's included in our real estate property management services, keep reading.
We Provide Administration Services For Your Property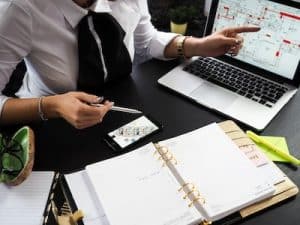 One of the biggest tasks for managing a real estate property is the day-to-day administration. Administrators see to the activity and the running of the property, so this is a vital piece for the success of your rental or investment property.
Our administration services manage bills and payments, schedules, payables and receivables, and communicate with tenants.
Both single-family residential rental properties and residential associations need effective and efficient administration to succeed.
At Blackwood Real Estate, we have experience providing property administration services to both residential properties and commercial properties.
We Take Care of Site Management For Your Fredericksburg Property
A real estate building requires routine maintenance to provide safe and comfortable living conditions for the tenants. Your property manager should be responsible for not only scheduling routine maintenance but also seeing to repair requests sent in by the tenants.
Property managers also need to perform regular inspections on the property to ensure that the tenants are taking care of their space properly. Your property manager can help you to maintain the quality of your building by actively inspecting and fulfilling work requests.
They can also take good care of your tenants by scheduling pest control and lawn care services.
We Manage the Finances For Your Fredericksburg Property
Owning any property requires attentive care of finances. If you own a rental property, then you are familiar with how money flows through the property. You may have income coming in for rent, but you need to use that money to pay for the mortgage, property taxes, bills, and repairs.
At Blackwood Real Estate, we manage the property finances to follow a budget and help you get a greater return on your investment.
We Respond to Tenant Needs For Your Fredericksburg Property
One of the best ways to maintain a good reputation and good business as an investment property owner is to take care of your tenants. Your tenants will be the ones to write reviews about your property.
One way a property management company can help you maintain good relations with your tenants is by having effective management systems.
At Blackwood Real Estate, we provide your tenants with easy systems to follow so we can take better care of them. We set up online payment options for rent and online submissions for repair and maintenance requests.
Our team will also communicate to tenants about any new changes happening on the property or when they can expect maintenance on their unit.
We Find Tenants For Your Fredericksburg Property
Before you worry about how to take care of your tenants, you first have to get renters in your unit or property. We have advertising systems that enable us to make your residential property seen to everyone who's searching for it.
Our team will also handle getting background checks and credit scores from potential tenants so you can trust that your property is in good hands.
Lastly, we will enforce governing documents of rental agreements or association contracts and see to any insurance claims that may take place regarding your property.
Our real estate management team in Fredericksburg can effectively take care of your property or your association. For more information, contact us here. Learn more about us by exploring more of our Fredericksburg property management website here.